Gaming desks, am I right? Your friend here's got another one lined up for review. Two main things factored into my decision-making process here: affordability and value. So, if you're looking for something within your means that's still a high-end, quality gaming GIP55 RGB Gaming Desk which fulfills all its gamely duties, allow me to present you…
The GIP55 RGB Gaming Desk (by Eureka Ergonomic)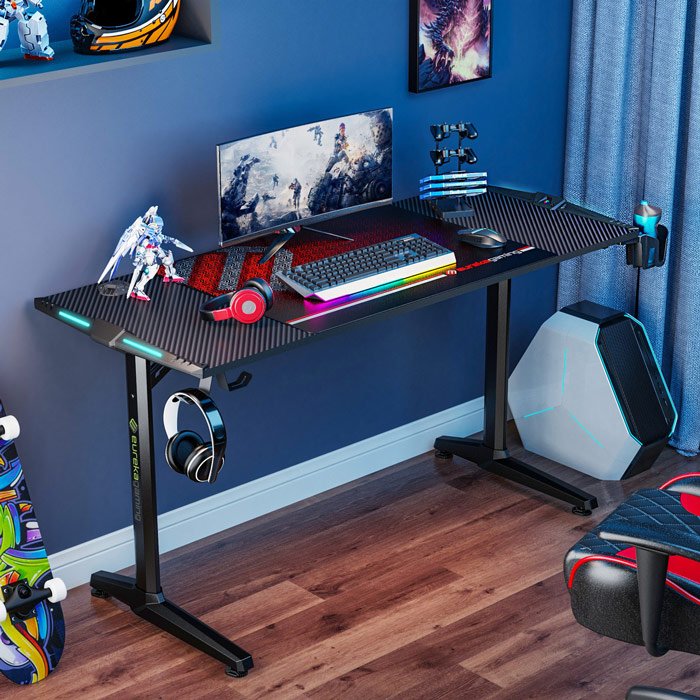 What's It Going For?
$239.99
What Are Its Primary Dimensions?
55"W, 24"D, 31"H
What's So Cool About It?
∙€€€€€€€Carbon fiber texture desktop
∙€€€€€€€Cold rolled steel I shaped legs & frame bear up to 180lbs
∙€€€€€€€RGB lighting on side paneling (6 colors w/ available strobe effect)
∙€€€€€€€Custom-made mousepad (ultra-soft surface, zero-slip rubber base, durable stitched edges)
∙€€€€€€€"Gamer's Gear Rack Bundle" includes:
o   cupholder
o   double headphone rack
o   controller stand
o   disc case holder
o   USB charging port
∙€€€€€€€Sustainably made, EPA-compliant, no hazardous materials
The Scoop
:
In short, the GIP55 RGB Gaming Desk meets just about all the qualifications you'd want a gaming desk to meet. Its 55" length provides space up top while keeping space clear down low to maximize legroom as well as room for whatever else you might want to put down there. The I shaped polygon legs (with supporting F1 levers) are also bolstered by an anti-rust metallic coating, which not only creates a sharp aesthetic but guarantees, well, no rust. With their powers combined, these I shaped legs plus the carbon fiber texture desktop bear up to 180lbs. An adjustable foot equips each leg to guarantee a level surface to accommodate even the strangest interior topography.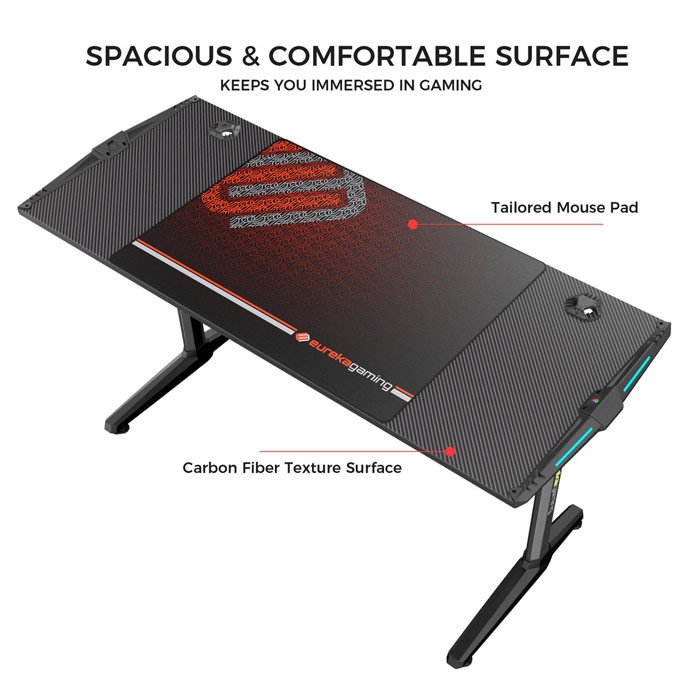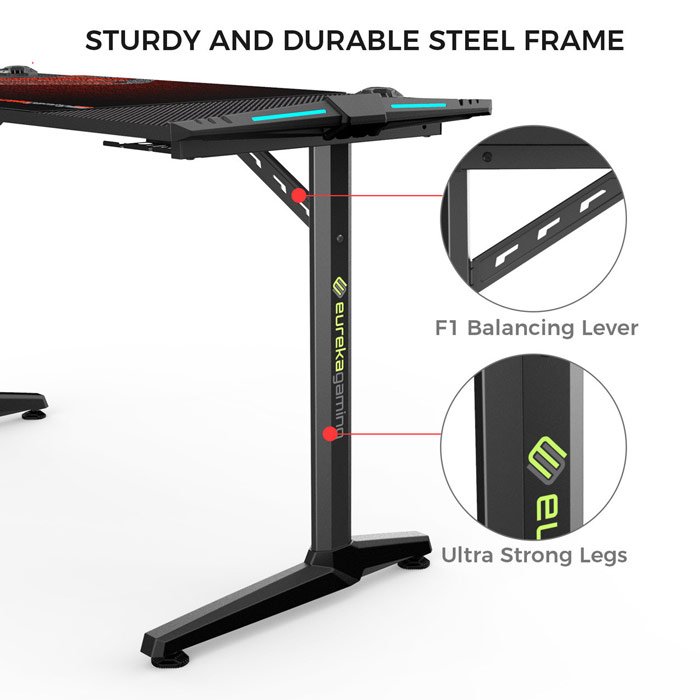 To further enhance the refined style of the GIP55 RGB Gaming Desk is—you guessed it—its patented RGB lighting. The RGB lighting emits from the side panels, casting a vibey glow in all directions. You can choose from 6 different colors, and also set a strobe effect for those especially high-stakes gaming moments. Add to that the custom-made mousepad (with its soft surface, zero-slip rubber base, and meticulously stitched edges), and you have yourself a nice-looking gaming setup that's built to last.
 Probably my favorite element of the GIP55 RGB Gaming Desk is the "Gamer's Gear Rack Bundle," which includes a controller stand, dual headphone rack, disc case holder, cupholder, and USB charging port. Toss onto that 2 gaming style cable grommets and a socket holder for organizational convenience, and that's a wrap. I don't know about you, but I have to rack my brain to think of something else I'd need for this gaming setup.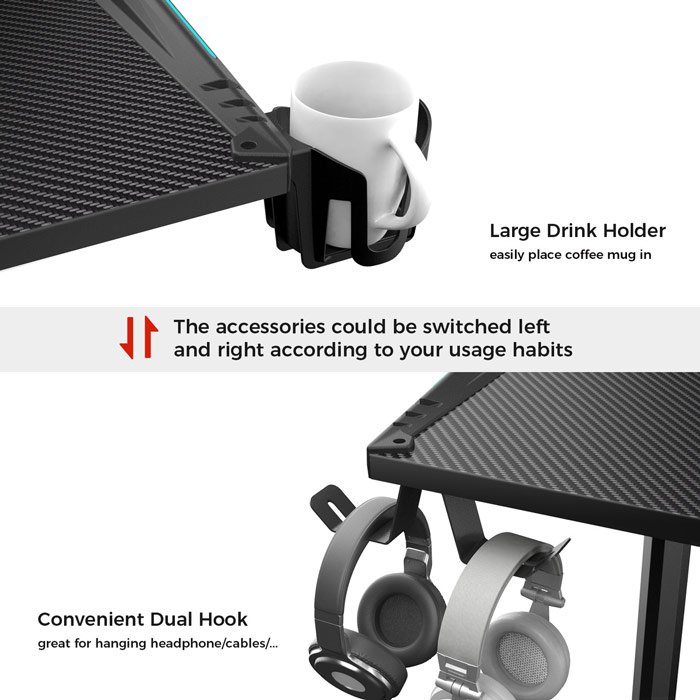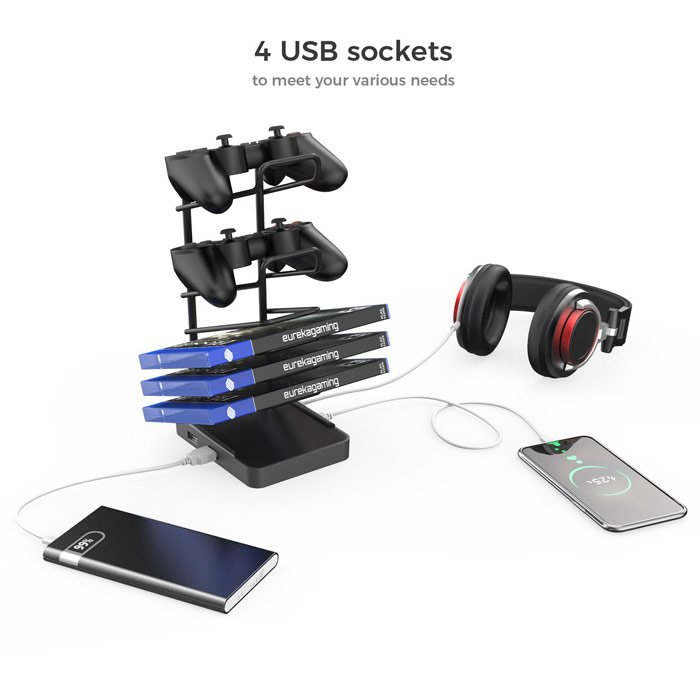 You'll be pleased to learn that the GIP55 RGB Gaming Desk is made from sustainable materials and is totally free of hazardous chemicals. When so many non-EPA-compliant companies are getting away with shipping gaming desks containing hazardous materials over Amazon, this aspect ALONE makes this gaming desk a no-duh choice. Put my fears to rest.
I can't recommend the GIP55 RGB Gaming Desk enough for anyone looking expand their gaming environment to deepen their gaming experience. https://eurekaergonomic.com/gaming-desk/
Follow – https://techshar.com for More Updates