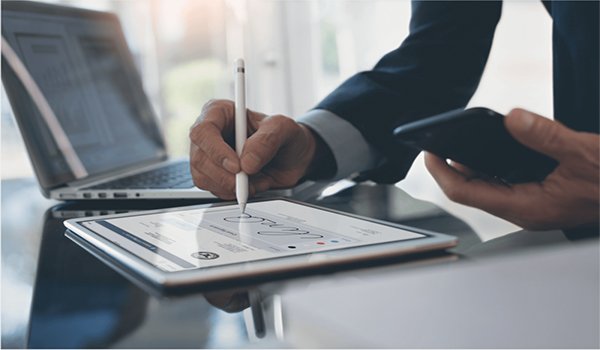 Time is the most valuable resource in our lives. However, it is so often lacking. There are only 24 hours in a day. It is very inefficient to spend 10-12 hours on a flight to sign documents. One of the most effective time management tools for businesses is an electronic signature. The introduction of electronic signatures will allow you to significantly save time without losing production efficiency.
Definition
An electronic signature is an electronic symbol, sign, or initials that refer to data in electronic form. It is an electronic equivalent for a handwritten signature. An e-signature is used to:
correlate signatory with signature
identify the authenticity of a document
encrypt a document with a private key
Many countries around the world have recognized electronic signatures as a legally binding form of document confirmation. If the country has an appropriate law, then documents with an electronic signature are accepted in courts. The United States has 4 federal laws according to this point:
Electronic Signatures in Global and National Commerce Act
Government Paperwork Elimination Act
The Uniform Commercial Code
Uniform Electronic Transactions Act
The last one is the most common. It is adopted by 48 states.
Main Advantages
The introduction of an electronic signature is not only about compliance with modern technologies. This technology also brings a lot of benefits to your business.
Reduced costs. It may not be noticeable but the costs of using and maintaining paper documents are very high. On average, one employee of the company uses two cases of paper per year. One box costs $40 on average. Thus, a small company of 50 people spends about $4,000 on paper per year. This is not counting the cost of printing, ink, folders, printer repair and maintenance, an archive for storing papers, etc. Thus, an electronic signature will save thousands of dollars yearly.
Increased safety. In most cases, electronic documents are safer to store than paper ones. Important electronic documents are stored in encrypted form on remote servers. No unauthorized person has access to them. By introducing electronic signatures, trusted providers use multi-layered data protection. It prevents the personal information of users from hacking and use by third parties. Moreover, an electronic signature allows you to store files on the computer. It prevents them from loss or damage.
Shorted time. After the introduction of electronic signatures in US enterprises, the average time to sign a contract has decreased from 5 days to 37 minutes. It's almost 200 times faster. Electronic document flow prevents delays in contracting, which leads to increased business productivity.
Expanded customer base. Thanks to the remoteness feature of electronic documents, you can attract more overseas customers and partners. Now, you do not need to meet in person to agree on a contract or treaty. The number of customers within the country is also increasing. Electronic signature services are available on any device. This allows your customers to sign documents in minutes on the go. They just have to open the link with a document from mobile or tablet and upload the signature.
Trustworthy Provider
SignNow is an American cloud-based company that supplies electronic signatures. It not only provides e-signatures but also creates tools to digitize business processes, eliminate errors, and embed electronic signatures in applications. Currently, the company helps over 20, 000.000 organizations and individuals to automate their workflows.
Due to the high quality of services, SignNow deserved high ratings from customers on the most reputable reviewers. For example, on Capterra, G2, Gartner, and Trustpilot, SignNow has an overall rating of 4,6 stars out of 5. The overall number of vetted reviews is more than 2,000. Most customers notice the ease of use, attractive pricing, a wide variety of features, and intuitive interface.
More Than Just an E-signature Supplier
SignNow is not just an electronic signature provider but a platform for automating your entire business. It includes:
PDF editor. The platform allows you to edit PDF files just like Word files. You can edit the text, change it, highlight the necessary fragments, etc.
Process automation. Set up automatic document flow without installing additional software.
Receiving payments. Embed the requested payment feature directly into the file. Thanks to invoices and changeable payment forms, the payment process becomes much easier and faster.
Auxiliary options. You can fill in the document with the necessary tables and diagrams. Create templates and send them to multiple recipients at once. This also automates the workflow.
Pricing Layers
SignNow offers some of the most lucrative prices compared to similar companies. For example, the first SignNow package (called the Business) costs $8 per user per month and includes 13 features. Let us compare it with the cheapest pricing plans of competitors:
PDFfiller – $20
Keep Solid Sign – $9,99
Adobe Sign – $14,99
HelloSign – $13
All of them consist of even fewer features than SignNow. This makes it one of the most profitable options on the market.
The second SignNow pricing layer costs $15 per user per month. It includes all the Business features plus 4 more. However, some features are extended. For example, instead of 1 team in the Business, you get unlimited teams in the Business Premium plan.
The broadest options are offered by the Enterprise package. It includes all the possibilities from the Business Premium plan extended by 9 additional advanced features.
If you hesitate which plan to choose, use the 7-day free trial. This is a good possibility to explore all the features for free. It will allow you to find the best package that suits your business.
Follow – https://techshar.com for More Updates